Fiber Arts Classes - Weaving, Spinning and Felting Equipment and Materials
Visit Eugene Textile Center's retail shop for equipment and materials for the fiber arts, as well as studios for weaving and surface design. We offer classes and studio support for anyone with an interest in handweaving, surface design on cloth, and other non-woven fiber techniques.
Shop our online store for books, looms, spinning wheels, fibers, yarns, dyes, paints, used equipment, and even educational toys for the next generation of artists. We will gladly match competitors' prices, and we ship free for all orders over $100 (in the continental US)!
Follow us on Instagram and Facebook for weaving tips, spinning ideas, professional dyer insights, class info and more!




$6,492.00




20% OFF OUR FLOOR MODEL CRANBROOK COUNTERMARCHEFOR IN STORE PICK UP ONLY - PLEASE CALL WITH ANY QUESTIONSThe Cranbrook Loom...

Details >




$82.00




One 1.5 oz cone of all twenty Tubular Spectrum colors (about 400 yards), 10/2 mercerized cotton. Includes instructions for basic...

Details >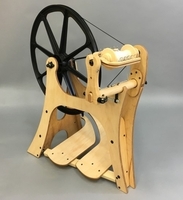 This unique Saxony style wheel is anything but traditional.  The body is formed using maple, apple-ply.    
The rock solid Flatiron spinning wheel is customizable; you can build it to your preference, with either the flyer on the left or the right. With self-aligning bearings in the maidens, and a fully adjustable drive wheel, the whole system is sure to spin true. The clever quick release lever makes changing out bobbins trouble free.
The Flatiron can be set up in all three tensioning systems combined with fine threaded tension control. All of the current Schacht whorls can be used with the Flatiron, allowing you to spin the yarns of your dreams-from frog's-hair fine to art yarn.
See More Details