On Your Mark - Print!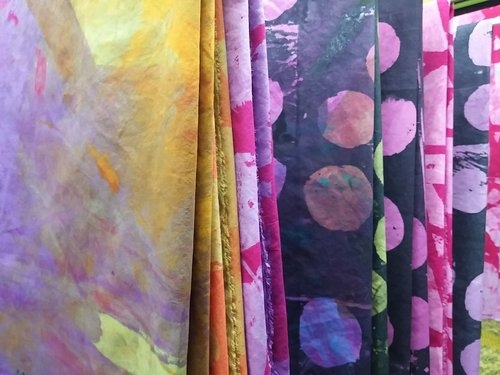 On Your Mark - Print!
Price:
$395.00
Shipping: Free
Description:
Take a favorite mark and use that motif in various print methods from direct dying and dye painting to layering print techniques wet and dry. We値l create variety of fabrics that relate, contrast, and become the center of attention in a piece. Starting with a notebook of linear designs and shapes, we値l center on how to use a mark and define that motif simply and dramatically.
Experiment with underlaying color for a background, applying a printed texture to the fabric, and adding a graphic element through the use of silkscreen, monoprint, and stencils. Using thickened dye as our medium, we値l add color and pattern, repetition and scale to design a fabric that will result in cloth that has layers of images, bold, beautiful, and one-of-a-kind. This class will leave you with a notebook of real experiences that use the surface design printing tools, and you値l know well how to Make Your Mark!
Date & Time:
July 15th - 18th, Monday - Thursday
CLASS TIME: 10 am - 4 pm
Instructor:
Pat Pauly
Price:
$395 + $50 materials
Reviews