Warp & Weft Ikat Weaving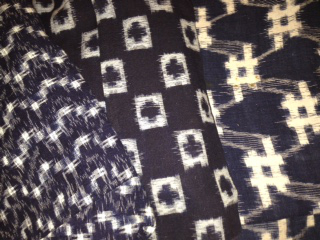 Warp & Weft Ikat Weaving
Price:
$350.00
Shipping: Free
SKU: Workshop
Description:
This class is currently FULL.
Call us to be added to the waitlist (541) 688-1565
Have you ever admired the Japanese, SE Asian and Indian ikat cloth? Wondered how it was done? This workshop offers a comprehensive introduction to this gorgeous ethnic weaving style. Examples of this cloth, many museum-quality pieces, will be available for inspiration. Participants will learn step-by-step design skills, preparation of the ikat warp, and indigo dyeing technique during the first 2 days. Weft ikat techniques will be introduced during the last 2 days, and students will weave warp ikat, weft ikat, and compound ikat to conclude the workshop. Students at all weaving levels are welcome. Because of the process, this workshop requires 4 full days to achieve admirable cloth.
Date & Time:
Thurs - Sun, August 15th - 18th
CLASS TIME: 10 am - 4 pm
THIS CLASS IS FULL!
Instructor:
Marilyn Robert
Price:
$350 + $20 Material fee
Reviews