Straight Eight with Tom Knisely (FULL)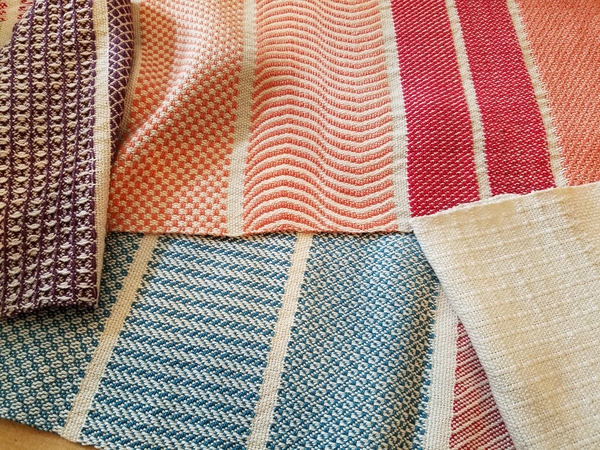 Straight Eight with Tom Knisely (FULL)
Price:
$350.00
Shipping: Free
Description:
Weaving Multiple Structures on a Straight-Eight Threading
This workshop is intended to help you think beyond the obvious possibilities of a given threading and treadling. A perfect example is the numerous treadling's you find for a threading draft in your favorite weavers pattern book. You thread your warp to the desired pattern draft and then treadle it several different ways to achieve different patterns. But what if you could thread your loom to a simple threading and weave several different structures? This exactly what we will do on a simple eight shaft straight draw twill threading.
Each student will weave a sampler starting with the simplest and obvious variations of Plain Weave, Basket Weave and Twills. We will then move on to weave Waffle Weave, Huck lace, Bronson Lace, Double Weave, Monks Belt and Summer and Winter. Dozens of structures are possible on this simple threading of one to eight. By simply thinking through and changing the tie-up and lift combinations all these well-known weave structures are possible and many more. Imagine weaving a towel of Huck Lace and Twill borders. Hopefully you will never experience weavers block. There is nothing worse than a long warp and a lack of inspiration on how to weave it off. But not anymore.
For Intermediate and Advanced Students
Pre-warped looms and all materials are included with the cost of the class.
Date & Time:
Friday-Sunday, November 2nd - 4th
CLASS TIME: 10am - 4pm
Instructor:
Tom Knisely
Price:
$350 + Materials Included
Reviews