The Unwoven Warp: Layering Sprang on Woven Cloth with Deanna Deeds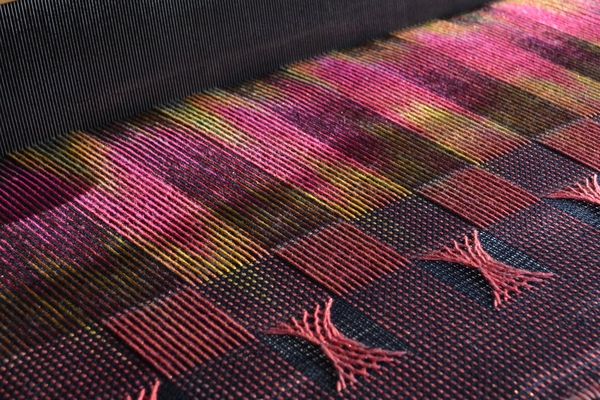 The Unwoven Warp: Layering Sprang on Woven Cloth with Deanna Deeds
Price:
$295.00
Shipping: Free
Description:
Learn to add sprang braided accents to your handwoven creations by leaving pattern warp unwoven in select areas, using a modified twill structure that creates supplementary warps. Sprang is a stretchy, net like fabric formed by the twisting of warp threads with each other. The elastic fabric thus formed is layered on regular woven cloth for exciting new possibilities in design.
Students will come with looms pre-warped, and will learn how to tension the ground and pattern warps, weave the background, work an interlinked sprang motif and secure it. You will also learn how to start and stop the motifs to place them alone or simultaneous with another, and vary the size and shape of the sprang.
In addition, we will have opportunity to try alternate treadling (lift) sequences for variations of background fabric, try alternate pattern warp yarns, and explore other sprang structures if desired. The class will include an introduction to sprang, a comparison of sprang to other fabrics, and a discussion of other weave structures in which supplementary warp floats can be formed.
Date & Time:
Friday-Sunday, July 20-22
CLASS TIME: 10 am - 4 pm
Instructor:
Deanna Deeds
Price:
$295 + $5 Materials
Reviews