Explore Lace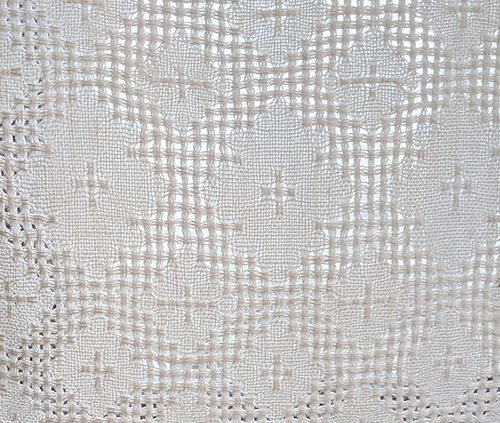 Explore Lace
Price:
$490.00
Shipping: Free
SKU: Workshop-ETC
Description:
Spend a week with Suzie Liles exploring some of the most used lace weaves. We will be working on Huck, Bronson, and Swedish laces. What a great way to spend a summer week.
The first day you will be warping your loom and starting your explorations. Then you will continue each day learning different tie-ups and treadlings for each lace. You will also re-thread the loom to weave other lace structures. This is a wonderful class for the advanced beginner. You need to know how to make a warp and thread a loom. You will learn all the rest in class.
If you are registering a second person for this class, please write their name and contact information (email and/or phone number) in the order comments.
For this class you will need:
Loom
4 or 8 shaft loom
Warp & Weft
Warp & weft is provided
A more detailed materials list will be sent to you before the workshop.
For Loom Rental: Loom rental includes the use of the loom during the workshop.
Date & Time:
Monday - Friday, July 10 - 14
CLASS TIME: 10 am - 4:30 pm
Instructor:
Suzie Liles
Price:
$490 + $30 materials
Reviews