Shifted Warp Ikat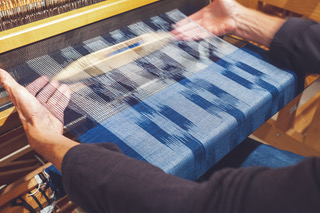 Shifted Warp Ikat
Price:
$375.00
Shipping: Free
SKU: Workshop
Description:
Ikat is a very refined & beautiful textile technique of resist-dying pattern into individual threads before weaving. It is a complex multi-phased fiber process resulting in graphically elaborate and vibrant woven cloth.
Participants in this three-day workshop will design, wrap, dye, and begin weaving a classic example of single dye vat ikat, an indigo blue & white ikat scarf, while learning the basic techniques of the warp ikat process. Each student will stretch a warp for an ikat scarf using warp yarns and a warping board they have brought to class. Four distinct ikat warp shifting methods will be demonstrated. Yarn handling and different ikat warp shifting techniques and tools will be discussed & demonstrated. On day 3 the ikat weaving will begin, further ikat weaving techniques and adjustments for creating many classic ikat designs and patterns will be demonstrated and discussed. The scarf weaving will be completed post workshop.
Beginning level weaving experience : student should be able to warp a loom and weave without assistance. No previous dyeing or ikat experience is necessary.
If you are registering a second person for this class, please write their name and contact information (email and/or phone number) in the order comments.
For this class you will need:
Loom
2-4 shaft loom with a 10-15 dent reed
Warp & Weft
White or natural, fine yarns (there are many options depending on availability and your preferences)
A more detailed materials list and warping instructions will be sent to you before the workshop.
For Loom Rental: Loom rental includes the use of the loom during the workshop.
Date & Time:
Friday - Sunday, March 24 - 26
CLASS TIME:
10am - 4pm
Instructor:
Mary Zicafoose
Price:
$375 + $20 Materials
Reviews