There must be 50 ways to Weave Your Color!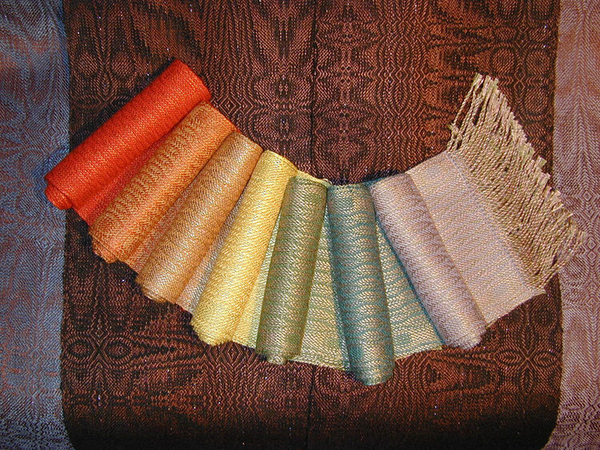 There must be 50 ways to Weave Your Color!
Price:
$375.00
Shipping: Free
SKU: Workshop
Description:
(Registration closes on Feb 19th)
Weavers seduced by gorgeous colored yarns often fail to use them successfully. The usual approach to this problem is to learn color theory -- a huge and daunting undertaking. Learning terminology is NOT the equivalent of learning to use color well. What is needed is a method to translate color theory, terminology and yarn wrappings into actual weaving. You donít need to master color theory to use color masterfully.
Using one color palette and a myriad of weave structures, weíll take a laymanís approach to color theory and the principles of optical blending for a facilitated, semi-scientific investigation of color design. Weaving in round-robin format on pre-warped looms (with custom-wound warps provided by Ruby), participants will explore the effect different fibers, yarn grists and structures have upon a single colorway. By weaving a color sampler at each loom, everyone will produce the equivalent of a case study in color and weave structure -- a reference tool for weavers to successfully integrate color and design into their cloth-making repertoire.
Beginning level weaving experience : student should be able to read a draft and weave without assistance.
If you are registering a second person for this class, please write their name and contact information (email and/or phone number) in the order comments.
For this class you will need:
Loom
4 or 8 shaft loom
Warp & Weft
All yarn will be provided. Your pre-wound warp will be mailed to you prior to the workshop.
A more detailed materials list and warping instructions will be sent to you before the workshop.
For Loom Rental: Loom rental includes the use of the loom during the workshop.
Date & Time:
Friday - Sunday, March 31 - April 2
(Registration closes on Feb 19th)
CLASS TIME:
10am - 4pm
Instructor:
Ruby Leslie
Price:
$375 + $105 Materials (includes warp & weft)
Reviews